Dr Andrej NikoloskiOrthopaedic Surgeon
foot & Ankle Specialist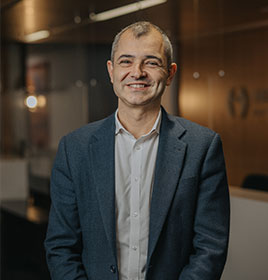 Dr Andrej Nikoloski
I am a locally trained Orthopaedic Surgeon with a special interest in foot & ankle surgery.
I graduated from Perth Modern School (Subiaco) with Dux in 1998, and completed my medical degree (MBBS) with honours at UWA in 2003. I did my internship at the Royal Perth Hospital, then completed the Royal Australasian College of Surgeons BST (Basic Surgical Training) programme from 2004-2007. I was then selected to the RACS/AOA Advanced Orthopaedic Surgery Training scheme from 2007-2014. I completed my final orthopaedic fellowship exams in 2014 becoming a fellow of the Royal Australasian College of Surgeons (FRACS) and a Fellow of the Australian Orthopaedic Asociation (FAorthA).
I furthered my studies in foot and ankle surgery in 2015, during an AOA accredited Foot and Ankle Fellowship, where I trained with the nationally and internationally recognised Dr. Andrew Wines and Dr. Kim Slater from the North Sydney Orthopaedic and Sports Medicine Clinic, and Dr. Les Grujic and Dr. Peter Lam from the North Shore Private Hospital.
I am a fellow of the AOFAS (Australian Orthopaedic Foot and Ankle Society) and currently the treasurer of the WAOFAS (Western Australian Orthopaedic Foot and Ankle Society).
I am passionate about continual professional development and education and I regularly attend local, national and international symposia and conferences, where I share ideas, knowledge and skills with like-minded colleagues.
Medical Qualifications
Post-Fellowship Training
Sydney Orthopaedic Foot and Ankle Fellowship, Royal North Shore Hospital 2015
Memberships
Western Australian Foot and Ankle Society (WAOFAS)